A thread protector is a screw on cap that helps prevent damage to the threads of OCTG and drill pipe.
The types, designs, and manufacturers of thread protectors are many and varied, and we have refurbished most of them.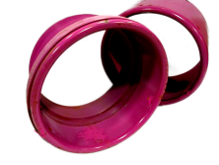 Types of Thread Protector
Open End – where the threads and pipe ends are protected but the bore of the pipe is open to the atmosphere. These are primarily used for protecting the thread during shot blasting or cleaning the bore, or for drifting the ID of the pipe.
Closed End Non-Liftable (CENL) – which protect the thread and pipe ends, and also prevent any ingress of water, moisture and debris by sealing the pipe ends.
Closed End Liftable (CEL) – which are the same as the above, closed end protectors, but also allow the pipe to be lifted using pipe hooks
Pin & Box
There can be some confusion about pin & box terminology when it comes to thread protectors:
PIN – Male thread on pipe
PIN PROTECTOR – Female cap which screws onto the male pipe thread
BOX – Female thread on pipe
BOX PROTECTOR – Male cap which screws into the female pipe thread
PIN CONNECTION
MALE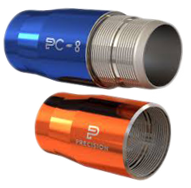 FEMALE
BOX CONNECTION
PIN PROTECTOR
FEMALE


MALE
BOX PROTECTOR
Connection or Thread Type.
This is the design of the thread on the pipe which determines the protector. There are various designs to cater for API and proprietary connections. (See stock below)
Protector Stock
Norkram have tens of thousands of protectors in stock at any one time. We have a huge variety, ranging from 23/8" to 36" in different types, designs and manufacturers. Readily available are protectors for API tool-joints, tubing and casing plus protectors for proprietary connection manufacturers, including:
Vam Family from Vallourec and Sumitomo
NSCC, NSCT – Ex Nippon Steel
Fox, Bear from JFE and Hunting – Ex Kawasaki
3SB, AMS, Blue, series from Tenaris
SLX, PH6, 500 series from Hydril/Tenaris
TCII, HT series from Grant Prideco
All sizes of API Tool Joint Protectors
All sizes of proprietary Tool Joint Protectors
Our stocks are constantly changing and updating. Contact us for stock, connection, and / or manufacturing queries.